Each week we're counting down to our Cheers to Liberty benefit by featuring ACLU members and event sponsors. This week we wanted to highlight some of the reasons we're passionate about defeding the Constitution in South Dakota. We all came into these jobs with varying experience and under different circumstances, but we all see Cheers to Liberty as a great way to convey our absolute love for what we do.
Heather Smith is the Executive Director of the South Dakota chapter of the ACLU. She joined the organization in 2013 as Communications Director and has been in her current position since 2014. As Executive Director, Heather manages the legal, legislative, and advocacy programs in South Dakota. She is responsible for overseeing a staff of five professional and passionate women, and serves as the primary spokesperson for the ACLU in our state.
"I admired the work of the ACLU long before I was a staff member and it was the organization's principled positions and wide breadth of issues that keep me fighting for civil rights and civil liberties in South Dakota.
Last year during our first annual Cheers to Liberty event I looked around to see a packed room of ACLU supporters—most of whom were new to the organization. In that moment, I felt a deep appreciation for the community in South Dakota and the people who have helped the ACLU of South Dakota become the organization it is today.  We will always lobby, litigate, and organize at the ACLU, but it's the people that make this organization great and to watch it grow in numbers across the years has been very rewarding.
I believe that attacks on a woman's ability to control her reproductive decisions is a major and ongoing threat to civil liberties because it involves so much more than accessing abortion. Reproductive rights encompass the right to bear children, to access IVF when you aren't able to have children, the right to terminate a pregnancy when things go terribly wrong, and in some instances, the right to terminate a pregnancy because it's the best decision for you or your family.  The attacks we see in South Dakota appear yearly and while not outright banning abortion, they've sought to slowing chip away at the rights of women in South Dakota."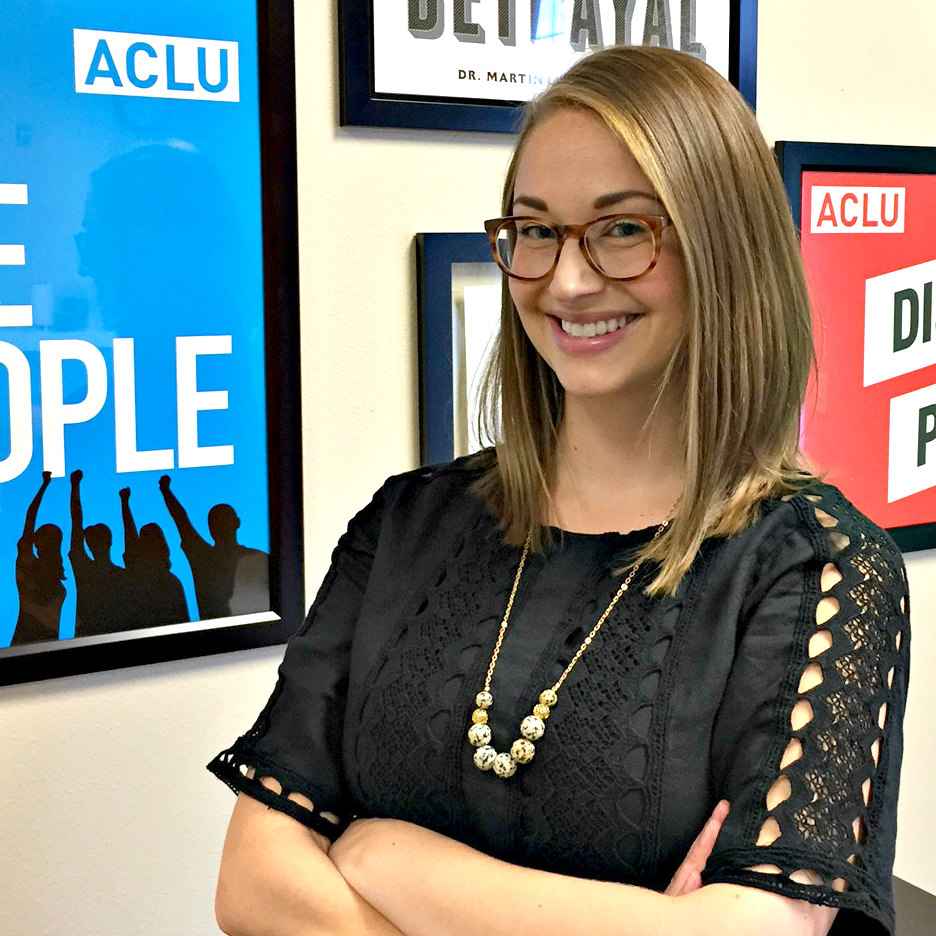 Libby Skarin (@Libby_ACLUSD) is the Policy Director of the ACLU of South Dakota and has served in this role since 2014. As the Policy Director, Libby manages the chapter's policy program. In consultation with fellow staff, Libby sets the ACLU of South Dakota's legislative priorities and drives the chapter's on-the-ground work to accomplish policy goals. She is the primary lobbyist for the ACLU in Pierre and maintains a full-time presence at the Capitol during the South Dakota legislative session.
"Back in my college days I studied to be a journalist; part of that curriculum included a big emphasis on the importance of the First Amendment and a free press to a functioning democracy. After learning about some of the most seminal ACLU cases – New York Times v. United States (the Pentagon Papers case) and Tinker v. Des Moines – I was in awe of the ACLU and the critical work it does. My love for the organization started there and blossomed throughout law school. Some days I still can't believe I get to work for an organization with such a rich history of standing on principle and challenging government abuses and I'm lucky to contribute to that work.
In 2016 I got the opportunity to work with a coalition of people to end the practice of sentencing juveniles to life in prison without the opportunity for parole in our state. Getting that bill passed was an absolute roller coaster; at the last minute it looked like we had failed to secure enough votes to get the bill passed in the final vote. After some strategizing and running around, we were able to pull it off! Seeing that bill become law and taking part in the signing ceremony was one of the best moments of my ACLU career thus far. It reminded me how important it is to keep pushing and to never give up. Sometimes, even when you think all is lost, you can pull off something incredible.
I love South Dakota, but we have a lot of work to do. Abortion rights are constantly under attack in our state and every legislative session we see new bills trying to codify discrimination against LGBT folks. There has also been an uptick recently in anti-Muslim and anti-immigrant sentiment; these have manifested both during the legislative sessions and in communities across the state. We're also incarcerating far too many people for drug crimes; instead of focusing on treatment and prevention, we're enforcing an outdated statute that treats having drugs in your system the same as having them in your pocket. That's unjust and it leads to terrible outcomes for individuals and communities as a whole. In the face of all these threats, one thing we can't afford is inaction. We know there are many things we have to change and we need everyone fighting on the front lines with us in the legislature and in communities."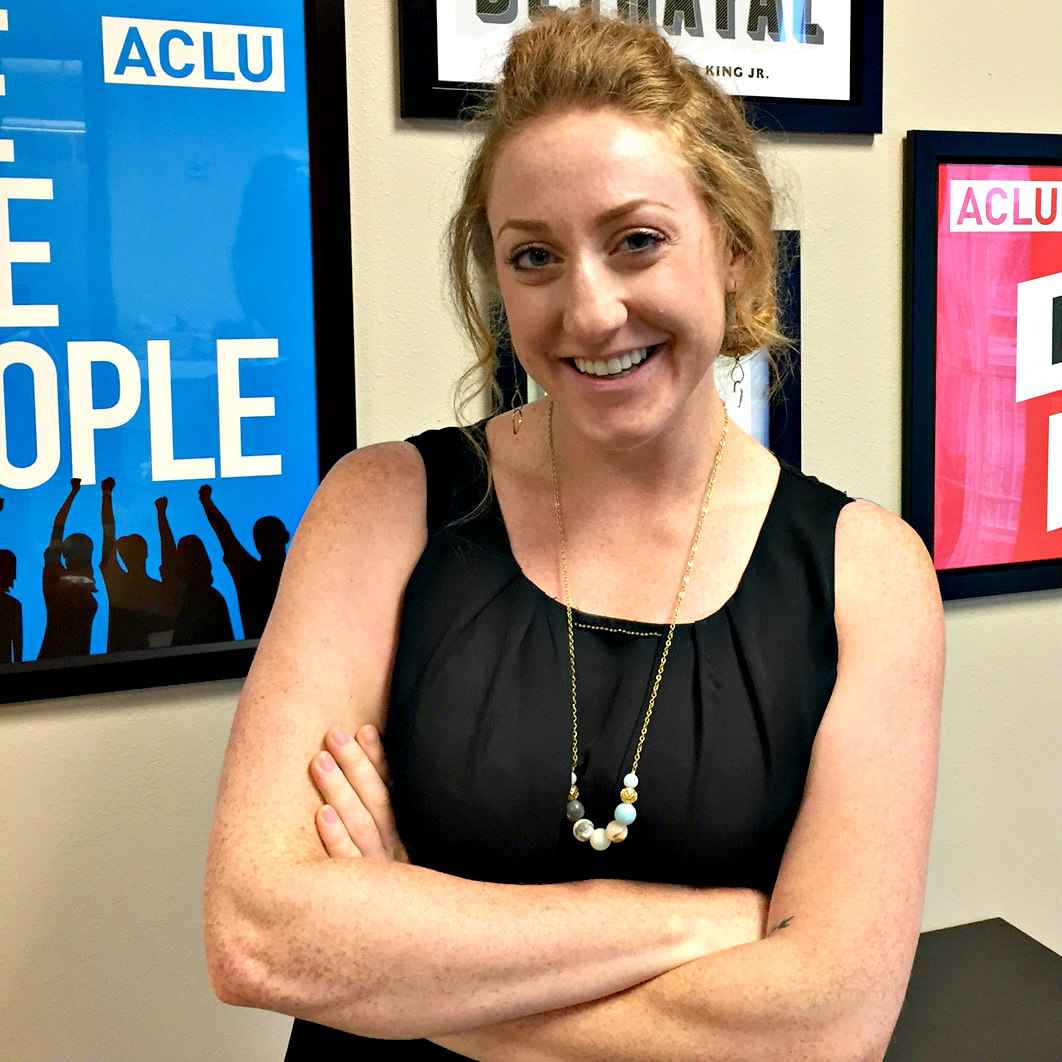 Kadyn Wittman is the Administrative Coordinator of the ACLU of South Dakota and manages the day to day functions of the office as well as volunteer and community outreach. She is heavily involved in the planning of the ACLU of South Dakota's annual benefit, "Cheers to Liberty," and serves as a representative of the organization at community events such as Sioux Falls Pride. 
"I've been a strong proponent of Free Speech for many years and the ACLU's tireless defense of our first amendment rights drew me to first volunteer with the organization, and then apply to join the South Dakota team.  
One of my most memorable moments was attending a senate committee hearing in Pierre where our Policy Director, Libby took a stand against a discriminatory bill.  I left Pierre that day with a renewed passion to fight discrimination and inflammatory legislation through my work with the ACLU. 
In my opinion, the greatest threat South Dakotans face is the anti-abortion legislation that rears its ugly head in session every year. My passion for free speech is seconded only by my strong support for reproductive healthcare for for South Dakota women."